Slideshow
Other top rated products
Filter Reviews
5 star rating

4 star rating

3 star rating

2 star rating

1 star rating
The most comfortable IWB holster!
Review by Edem K. on 7 May 2020
review stating The most comfortable IWB holster!
To be honest, I was getting frustrated with the overdue delivery time, but upon delivery, and having used the holster for the past week boy am I amazed at how comfortable this thing is!
Thanks Kramer!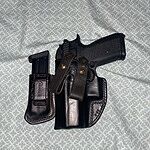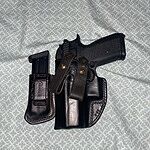 Comments by Store Owner on Review by Edem K. on 7 May 2020
Thank you very much for your patience and kind words. We completely understand the anticipation of new gear, and are very sorry about the frustratingly long lead time and delays. We completely understand how nerve-racking it can be and truly can't thank you enough for your patience. And of course, thank you very much for your support.
Sig P-210 IWB #2 holster
Review by William T. on 5 Mar 2020
review stating Sig P-210 IWB #2 holster
This is my 5th Kramer holster. The other 4 were for a Commander, Officers, Hi-Power , & an ankle rig for a Colt Mustang I've had them for about 20 years & I love them . I took the gamble that your Sig P-210 Target IWB #2 would fit my P-210 Standard & it does perfectly. You should add that as an option on your site.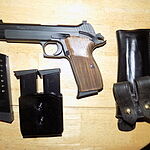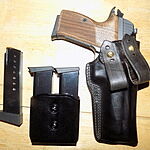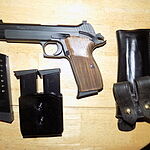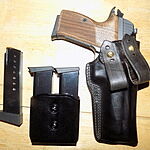 Best concealed holsters
Review by Tucker B. on 19 Jun 2020
review stating Best concealed holsters
Fits comfortably. Have never had a problem with these holsters in the 18 years I've used them.
Great Holster
Review by Michael S. on 11 May 2020
review stating Great Holster
This is a well-designed, well-built holster. Quality of materials is top-notch and the workmanship is well done. I have a Kramer pocket holster for my EDC J-frame Smith and this holster is for an EDC Colt Cobra. Hard to tell which one I like better. Turn around time is about 8-10 weeks which is very good for a custom holster. I highly recommend both the holster and Kramer!!
Ideal IWB holster for daily use
Review by James S. on 30 Apr 2020
review stating Ideal IWB holster for daily use
This holster and the #3 brother keep medium sized guns (compact 1911's, Browning HP, and similar sized serious carry guns) absolutely secure, and snug to your body. The gun butt is accessible, but the risk of printing is minimal, and my first one has lasted 15 years. It is an extremely durable and well designed rig.
Q: Returning customer...what is the process and cost for a IWB for a 32 caliber Ortgies. Feel free to call me if you like. 313 570 5654 Thanks...Cliff
A: Cliff, thank you for your continued support. Unfortunately, this is one of the very few guns we don't have on hand. Without the gun, we're unable to make our holsters and I do apologize. I wish we could've helped your out on this one.
Q: Hello,

For an extra cost, would it be possible to order your #2 IWB holster without the FBI cant (straight drop) for a Smith & Wesson J frame?

Thanks.
A: Thank you for your question. Unfortunately, I'm going to have to be the bearer of bad news. We wouldn't be able to change the cant. This all comes down to the throat band of the holster, which is the determining factor of the angle. Without getting in to the technicalities, there just isn't a feasible way to make this work with your gun. We do apologize and wish we could've accommodated your request.
Q: Will your iwb #2 accommodate a red sot
A: Thank you for your inquiry. Unfortunately, we just recently paused these types of custom orders in an effort to reduce the lead time of our standard product line. We hope to resume customizations in the near future, but at the moment we have no way of knowing exactly when that will be. However, we do have a waiting list, and if you think you'll still be in the market we'd be happy to add you to it. Just shoot us an email letting us know you'd like your name and email added. Our apologies.