Slideshow
Other top rated products
Filter Reviews
5 star rating

4 star rating

3 star rating

2 star rating

1 star rating
An Experiment in Re-Purposing
Review by Philip W. on 14 Apr 2020
review stating An Experiment in Re-Purposing
For a while, I've wanted to carry a medium-frame snub-nosed revolver in the appendix position, but I didn't want the bulk of the cylinder inside my waistband. After a lot of research, I decided on the Kramer crossdraw holster because:

1. It was available for 6-shot K-frame revolvers, instead of only 5-shot J-frames;

2. It was available in practically-indestructible horsehide;

3. It was designed to carry the gun at the right angle for discreet concealment with a smooth, rapid draw.

Worn just in front of my right hip, the Kramer crossdraw holster tucks my 2" S&W 64 tight into my abdomen, without printing under a loose shirt. The holster barely extends below my beltline, for better concealment and comfort while sitting. And, the horsehide leather wears like iron, so it's not likely to soften or stretch to the point where it will allow a heavy steel revolver like mine to lean outwards over the belt, compromising concealment and retention.

All in all, this holster does everything that I expected it to, and even better than I had hoped! I expect to be carrying this gun and holster for many years to come!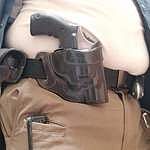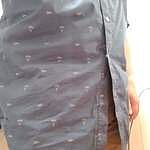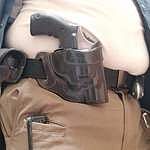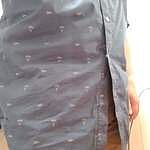 Hard to decide...
Review by Don O. on 6 Mar 2020
review stating Hard to decide...
My first Kramer holster was a Belt Scabbard for my 1911 duty weapon. I thought then that it was the best gun leather I'd ever used and own and I have every major brand. Now that I have this new Kramer crossdraw holster, it is nearly impossible to decide which I love more. The comfort, fit and weapon security are unmatched. Thank you for such a wonder product. Both were worth the wait, it's true, good, no, great things take time.
Perfect crossdraw
Review by Vern R. on 5 Mar 2020
review stating Perfect crossdraw
This is the perfect crossdraw for my Glock 20. Easy to reholster after break-in, good retention and smooth draw. I'm fussy about my holsters, but no complaints about this one.
A Great Holster.
Review by William K. on 5 Mar 2020
review stating A Great Holster.
This is my 5th KRAMER Holster. And like all the rest it is a perfect fit for my Smith & Wesson 1911 PC. which I carry all the time.
Well crafted,gun fits great
Review by Gary M. on 5 Mar 2020
review stating Well crafted,gun fits great
Well crafted,gun fits great