Slideshow
Other top rated products
Filter Reviews
5.0 star rating

4.0 star rating

3.0 star rating

2.0 star rating

1.0 star rating
Simply the ABSOLUTE best on the planet!
Review by James Y. on 27 Jul 2020
review stating Simply the ABSOLUTE best on the planet!
I have 7 Kramer holsters, One has seen continuous service since 1994. They are simply the very best on the market. They fit so well that Kramer is the only product I ever recommend. The wait time is usually a few weeks due to being popular and time consuming to make the very best. It is like Christmas every single time I open a box from Kramer. I had two made this time one Right handed for a bobbed hammer Taurus 450 in 45 Colt. The other left handed for a Springfield Armory Ultra Compact in 45 ACP. Both are flawless, fit better than any glove I have ever owned! Keep up the exceptional work!

Kindest regards,
James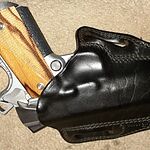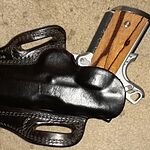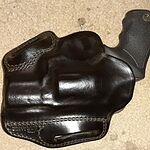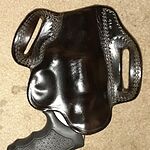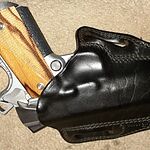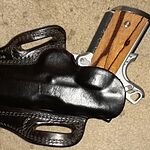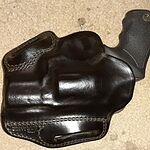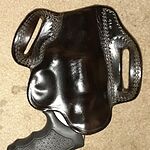 Great holster fits gun and
Review by Lenny S. on 16 Jul 2020
review stating Great holster fits gun and
Great holster fits gun and rides close to body so can be concealed under a tee shirt. As soon as i received holster ordered a mag pouch and another holster.
Smith and Wesson 325PD Belt Scabbard Holster
Review by Joe W. on 2 Jun 2020
review stating Smith and Wesson 325PD Belt Scabbard Holster
Out of all my holsters for my S&W 325PD the Kramer Belt Scabbard holster fits the snuggest to my body and is very comfortable to wear.
the holster is so simple but so perfect. Fits the gun like a glove.

I am trying to get one now for my Ruger Redhawk 45AUTO-45COLT revolver. If your looking for a great close fitting holster go with Kramer Leather.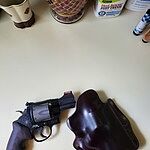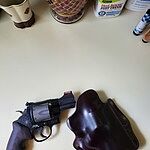 Donley N.
5.0 star rating
This is my first Kramer
Review by Donley N. on 14 May 2020
review stating This is my first Kramer
This is my first Kramer holster, purchased because the other horsehide maker doesn't fit revolvers. It's been carrying a 3" S&W L-frame on my hip for 16 hours a day, every day since delivered. The butt-forward cant - more than I'm used to - requires that it be worn slightly farther back on the belt. The design completely covers and protects the gun, but leaves the butt available for a firm grip before drawing and the deep front slot allows the barrel to rotate forward easily. While probably not as fast as some other designs, it is well thought out, very secure, and awfully pretty.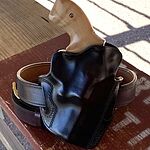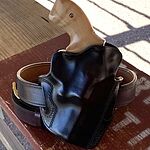 Augustus A.
5.0 star rating
First Kramer but not the last!
Review by Augustus A. on 2 May 2020
review stating First Kramer but not the last!
I've never owned a nice holster and I decided with my new king cobra top of the line revolver needs a top-of-the-line holster. So I paid the money and waited patiently for two months and kept seeing that the company is so highly talked about, anyway when the thing came in I was absolutely blown away! It's just all that and a HAM sandwhich! I will go NOWHERE else for gun leather but Kramer! Kimmy is so sweet and the customer service is second to none. Do not hesitate. Order now!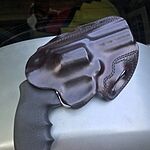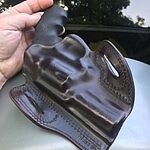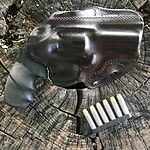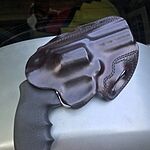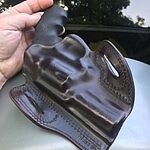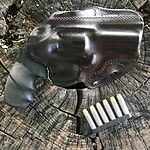 Q: Laser Grip & Laser Guard are terms I am not familiar with in relation to your holsters. I have a Sig P-320 Full Size. Would the holster need the Laser Grip or Laser Guard. I know the Mitch Rosen model for my handgun will fit with a Romeo site.
A: Thank you for your question. So, laser grip and laser guard are referencing Crimson Trace lasers. Lasers that attach at the grip, and then lasers that attach at the trigger guard portion of the gun. If you have a Romeo red dot sight attached, we are able to accommodate this, but it is a customization, resulting in a custom order. Our holsters are made to fit the stock guns, and at the current time, unfortunately, the only custom options offered on our site (and shipping with the same lead time) are the lasers. If ordering for a P-320 with no accessories, there's no need to select anything from the additions category on the product page.
Q: I might add a Trijicon RMR red dot to my P226 Legion. How do I show that when ordering a belt scabbard holster.
A: Thank you for your interest in Kramer Leather. We are able to customize our Belt Scabbard to fit your RMR, but due to the custom nature of the holster there is an $80 customization fee and the holster available in horsehide leather only. Coming back to the custom nature of the holster once again, the lead time is about double that of our standard product line. We apologize, our site is not equipped to accept this type of customization, but ordering instructions can be obtained by email, or, orders can be placed by phone Mon-Fri 9 am to 5 pm PST at
1-800-510-2666
.