Slideshow
Other top rated products
Filter Reviews
5.0 star rating

4.0 star rating

3.0 star rating

2.0 star rating

1.0 star rating
Fits my LCR like a
Review by Tim G. on 16 Jun 2020
review stating Fits my LCR like a
Fits my LCR like a glove. Very well made. Best holster I have ever owned.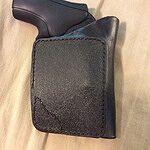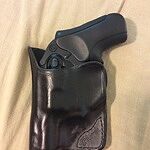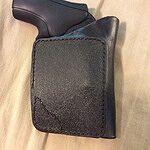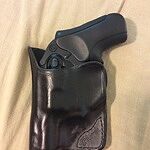 Excellent holster
Review by Allen B. on 4 Aug 2020
review stating Excellent holster
Good quality and design makes for a smooth draw from pocket. Fits well with a discreet look.
George B.
5.0 star rating
Best pocket holster money can
Review by George B. on 26 Jul 2020
review stating Best pocket holster money can
Best pocket holster money can buy. Always ready , virtually invisible when in use.
Philip M.
5.0 star rating
I recently read a gun
Review by Philip M. on 23 Jul 2020
review stating I recently read a gun
I recently read a gun review article that casually mentioned your holster in terms that suggested that yours are the best. Your website convinced me that the comment was warranted- a business with higher prices and longer wait times is successful only when its product is superior to the competition's. The thrill of opening your Kramer box after waiting 13 weeks was like opening a box from Rolex.
Stanley E.
5.0 star rating
I purchased this for a
Review by Stanley E. on 16 Jul 2020
review stating I purchased this for a
I purchased this for a SW 340 PD. Its actually my second second holster. I purchased one over 12 years ago and carried the gun as my backup gun on duty in my cargo pocket.
I retired and moved and could not find the holster so I ordered another one.

The holster is a great holster for the pocket. It doesn't print and will not pull out when drawing.

By far this is one of my favorites for the SW340
Q: sig 365 MS, Pocket carry, right handed: which side goes against my body & which facts outwards? Once in my right back pocket how does it draw allowing me to remove it from my pocket with my right hand, removing the holster with my left hand leaving the gun ready to shoot in my right hand?
A: Thank you for your interest in Kramer Leather. The molded, leather only portion of the holster will sit against the body, and the side with the squared off Kydex will be facing away from the body, giving the illusion of a wallet rather than a gun. Now, if I'm understanding the question correctly, this second part is a bit tricky to answer. Our pocket holster was designed to be carried in the front/side pocket and not a back pocket. If carried in the designated front pocket, the holster is designed with a "hook" that will catch in the pocket when drawing, allowing the user a one-handed draw, leaving the holster in the pocket, releasing only the gun. Because the back pockets are square, we can't say for sure that the holster will stay in when drawing. If I had to give my best guess, it's going to come out with your gun since there isn't anything for the "hook" to catch on, thus leaving you to remove the holster with your non-dominant hand. I hope this was helpful, and if you have any other questions, please don't hesitate to send them our way.
Q: RE: the Pocket Holster, for a Sig 356 Manual Safe: what are the dimensions. I am wanting to know relative to my pocket sizes, and how it might fit.
A: Thank you for your interest in Kramer Leather. The approximate measurements for a P365 pocket holster are 6-inches in height and 4.5-inches in width..