Slideshow
Other top rated products
Filter Reviews
5 star rating

4 star rating

3 star rating

2 star rating

1 star rating
A real horsehide gun belt.
Review by Donley N. on 9 May 2020
review stating A real horsehide gun belt.
We have many choices in belts these days. This is my first Kramer, bought to supplement, not replace, a trophy belt made for me by a local saddle-maker ten years ago, and worn every day since. The belt is beautifully crafted of high quality horse, and likely to last longer than I will.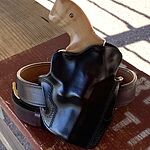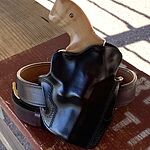 John
Review by John Y. on 3 Jul 2020
review stating John
I've been dealing with Kramer Leather Goods for a while now and could not be happier, all my side arms enjoy a Kramer horse hide holster, and i have several belts. My best memory is the holster for my glock 26, the weapon fit the holster and required no break in. Keep Up The Good Work.
Double Thick Gunbelt
Review by Mitch L. on 4 May 2020
review stating Double Thick Gunbelt
The quality of the workmanship and materials far exceeded my expectations. Also a superior value.
So that's what a quality belt looks and feels like...
Review by Michael S. on 30 Apr 2020
review stating So that's what a quality belt looks and feels like...
Fantastic. I'm a multi-Kramer holster owner. I've got a #3 IWB, a paddle, and pancake for my Glock. I use them for different clothing choices when carrying concealed. But I never had a good belt. I finally broke down and ordered the double thick. I was concerned it would be too thick and would dig into my lower back. I've had that issue before with other "gun belts." I was shocked at one, how comfortable the belt is even when seated in my car, and 2 how big a difference it made using it with my holsters. They are all more stable and more comfortable. Huge difference with the paddle holster. It really locks in place with this belt. I'm thinking about getting another, and I don't even need another! 2 thumbs up.
The Best
Review by Abram G. on 25 Apr 2020
review stating The Best
When men were men and cowboys roamed the west shooting buffalo and finding, this is the sort of belt they would have worn.

Honestly though, this is a good belt and I have no regrets about its purchase. This belt reminds me that a belt is a tool, just like other items I carry on my person, and like a tool it has a function. I can see this belt lasting me a decade or two without issue (unless of course my metabolism finally catches up with me and I widen up a size or two requiring a new belt).